Kotler-Coville Glass Pavilion | Ringling Museum of Art
Sarasota, Florida
Modest in size, but packed with program, the Kotler-Colville Glass Pavilion is the latest addition to the John and Mable Ringling Museum Campus. The design of the Glass Pavilion continues the Ringling tradition of creating innovative architecture that serves the arts. This signature gallery offers a contrasting modern backdrop to the historic Gate House that greets visitors coming to experience the wide ranging art collections offered at the Ringling. The 5,500 square foot addition to the Visitor's Pavilion houses the museum's glass art collection, serves as the reception lobby for the historic Asolo Theater, and provides a dance rehearsal studio and dressing rooms for the theater. The floor plan is largely dictated by a constricted site location which included the existing Visitor's Pavilion to the west, the historic Ringling Driveway to the south, and the adjacent historic gatehouse and wall to the east. Inspiration for the project is derived from the interaction of air, water, sand and the resulting ripples found in nature; both on the beach and in the shallow waters just offshore in the Gulf of Mexico. The ripples on the beach are manifested as vertical shade fins that define the eastern facade, controlling morning sunlight and creating a dynamic architectural statement which compliments the world class art collection it houses.
Owner
Florida State University
Cost
$3 million
Size
5,500 SF
Completion
2017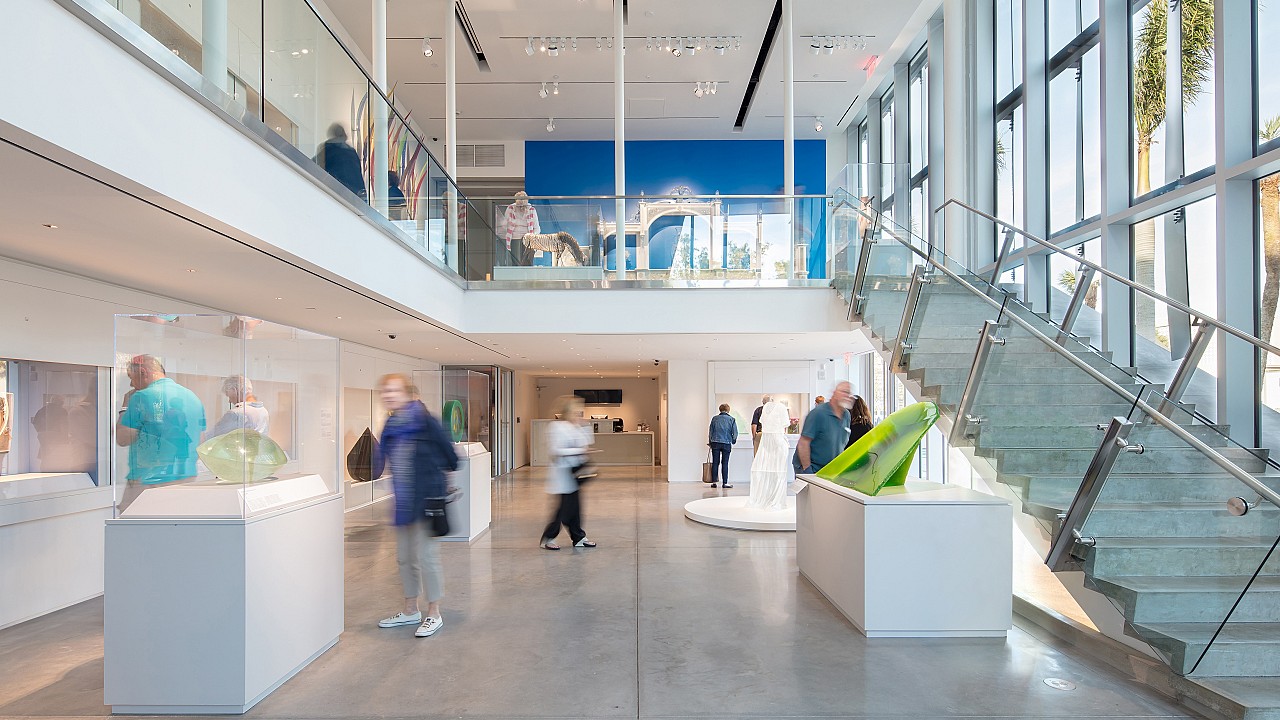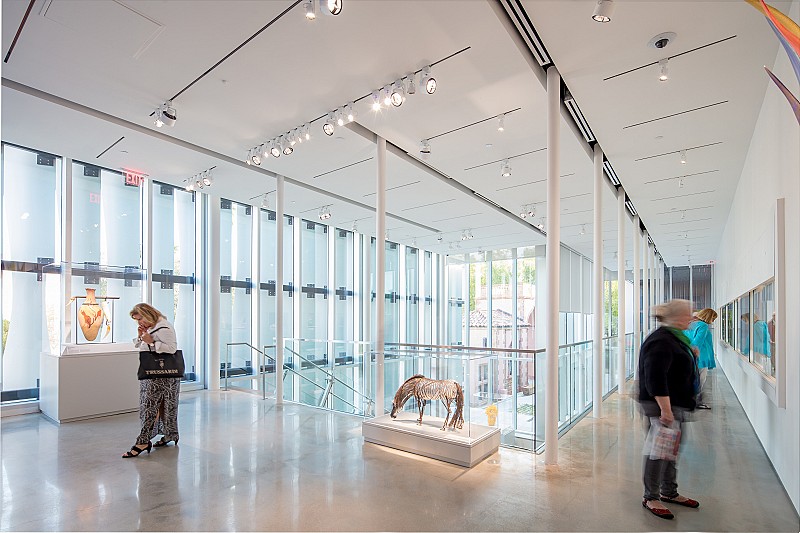 Inspiration for the project was derived from the interplay of air, water and sand, principle ingredients in the glass-making process. This inspiration is portrayed on the prominent eastern wall, helping to control and filter daylight entering the art gallery.
The Kotler-Coville Glass Pavilion creates an inspiring space to experience both visual and performing arts. It is not only a gift to FSU, it is a gift to Ringling, a gift to this community, and it will remain free so that anyone can engage with this world-renowned studio of art glass.
– John Thrasher, Florida State University President